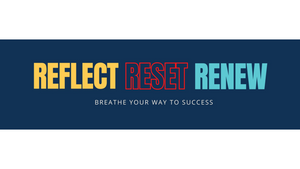 ready to spring or fall into something new?
What would it be like to minimize your stress?
What would it be like to take a moment to refill your cup?
At the start of 2022, I launched the four-part course: Reflect Reset Renew: Breathe Your Way to Success to help us manage our stress better. 
Here's what you'll discover:
The science of your breath and mindfulness
Unlocking how to slow down to go faster
New techniques to help you strengthen your concentration, clarity, and ability to relax when it gets stressful.
The benefits of visualization, self-motivation, and consistency.
How to use your breath to sleep better and reduce your stress.
If you are intrigued, there could be an elephant in the room - so let's address it.
I know some consider mindfulness a little woo-woo. If this is you, I totally get it the whole vibe, and it's how I felt at first. But after I started my mindfulness practice over twenty years, I discovered it was hard - of course, all the juice worth squeezing is hard - and I wished I had someone to guide me. Oh, and over the years, I discovered that my business and athletic idols had a practice, but like me, they didn't share it openly at first. Luckily, we view our health differently today. 
Here's what's awesome-sauce about mindfulness. It can help you navigate uncertainty, improve symptoms of burnout, reduce stress, assist with medical concerns like hypertension, and sharpen your focus. Cool beans, right?
Mindfulness has helped me recover from my total knee replacement faster than anyone expected, and it was a key to climbing to the executive suite on my terms.
So, are you curious enough to spring toward something new?
If you are, then I would love to introduce you to mindfulness and the power of your breath as we welcome a new season of possibilities.
---