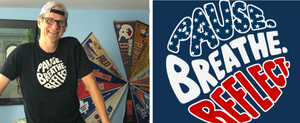 The Olympics, The Great Resignation, and DE & I Efforts.
Riddle me this, Riddler, what do the Olympics, ending the Great Resignation, and D, E & I efforts have in common?
At our house, we can't wait for the Olympics to start so we can watch Mikaela Shiffrin, Chloe Kim, The Flying Tomato, speed-skater Erin Jackson, and others compete. And each of them will do the same thing before competing...deep breath in...deep breath out to slow down because they know slow is fast.
The corporate world loves a good sports analogy to underscore the value of grit, tenacity, resilience, and teamwork. But considering the importance of breathing when competing, we don't hear many corporate leaders talk about our breath.
Recently, I asked over five hundred leaders what they hoped for most in the week ahead:
More Focus

More Calm

More Productivity

More Connection
As you look at your week ahead, what do you desire?
Most said they wanted more calm, followed by focus, connection, and productivity, which fell just outside the bronze medal - fourth place - so close, yet so far away.
Whether you call it The Great Resignation or something else, one thing is clear; work isn't working well enough. Whether it's pay, pace, or priorities, people are pooped - some are tapping out, and those who remain are gritting it out - queue sports analogy video with adrenaline-pumping music.
Folks can't seem to catch their breath since our Great Kerfuffle started in 2020, and The Big Quit won't quit until we give employees a chance to breathe. (note, I'm not suggesting a four-day week, but I think we can provide folks with five minutes between Zooms).
In a different survey, I asked leaders how much progress their company's diversity, equity, and inclusion efforts have made - most said they've only realized a slight improvement.
As someone who's been an ally before it was cool to be one; here's my theory, most of our initiatives don't address mindfulness.
Mindfully working helps us slow down to hear, see, and, yes, love each other. It creates a ripple that leads to more connection and momentum. It may feel counter-intuitive but just like our Olympic athletes, slowing down helps us move forward faster.
I tend to be a bit of a reductionist. I've discovered that however the data is sliced, performance comes down to our self-narrative, breath, and mindful living.
And we spend zip, zilch, zero time on these essentials. Instead, we spend millions on lousy training that doesn't change a damn thing. And yes, I hear the Amens because I know you've sat through a ton of them.
So, back to the riddle, what do the Olympics, ending The Big Resignation, and D, E & I efforts have in common? The answer? To be successful, we need to breathe.
As we started January, I introduced my new Reflect, Reset, and Renew course so you can discover how to use your breath and mindfulness to create the success you desire.
You will receive four 25-minute videos that include easy-to-implement tips that will help you lower your stress, shift your narrative, and be in the moment so 2022 can be your best year yet.
Do yourself a favor, hop off your hamster wheel, and discover how to slow down to go faster. You can sign up below, and if you don't learn something new, I'll give you your money back.
Oh, and if you haven't signed up for our daily inspirational text messages, today is your day. Text "Shift" to (503) 487-5957, and I'll get you set up.
Until next week, remember to Pause Breathe Reflect and have fun storming the castle!
Michael
---