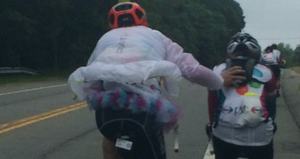 Our Sh*t is Our Fertilizer
In 2012, Michael joined sixty or so of his colleagues and 5,000+ other cyclists for the Pan-Mass Challenge. What they lacked in experience, the made up for it with passion. For many, this would be a "commit, and you'll figure out how to do hard things" moment.
If cycling 192 miles across Massachusetts wasn't hard enough, Mother Nature thought the weekend's dish needed a bit more spice. On day one, she ugly cried all over them; it poured from their first pedal stroke and never let up. 
On Sunday morning, everything was still wet, and bodies were sore. Saturday was the longest ride ever (111 miles) for most of the team, and they had another 81 miles to go before finishing at the tip of Cape Cod. 
At 5:30 am, they clipped in and started climbing up and over the Bourne Bridge to get to The Cape. It was eerily quiet as they pedaled through the morning fog except for gears shifting and labored breathing. 
Asking for help isn't a sign of weakness; it's saying you're not quitting. It's an invitation to connect and travel farther together. 
When they got to the first rest stop, Nilsa asked for help. At that moment, with no shame in the game, she could have tapped out and joined hundreds who already did. Her ask was gritty, awe-inspiring, and courageous. They left that rest stop and rode centimeters from each other for the next sixty miles until they got to P-town.
She likes to say Michael saved her, but he didn't - it was just a push. She had all the fortitude and tenacity within her to keep pedaling. Because she was willing to be vulnerable, her courage surfaced, and it helped others ask for the assistance they needed to finish. 
Here's the thing Michael loved about Nilsa and her fellow peloton members that weekend. As his friend Sebene recently shared, they knew that our shit is our fertilizer. So instead of resisting or quitting when these moments come, they sit in it. They act like the Little Duck and cuddle in the swells as the ocean heaves. 
Nobody quit; everyone from our squad finished. 
Too many peddle a belief that no one is coming. You're on your own in this dark and scary world, but it's nonsense. When you ride with those who bring out the best in you, people will come. At some point, we all need support because none of us have all the answers.
In the past, we believed that only a few had the answers. We hyper-valued the gurus, experts, and "sage from the stage," but today is a new day that demands a new leadership approach. It's time for a better model that drops the ego, favors our collective curiosity, and welcomes asking for support because none of us has this all figured out.
But together we can go far. 
---