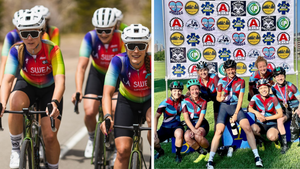 oh, that was sweet
Friday evening, I fell asleep somewhere between Ukraine and Norway as I watched the Olympic opening ceremony. I woke from my "no, I wasn't sleeping, Boo" zzz-fest to catch Team U.S.A. entering the stadium.
Leading the team and bearing The Stars and Stripes were speed skater Brittany Bowe and curler John Shuster. It was a sweet Instagram moment of equality; unfortunately, it was performative. 
Despite fifty years of Title IX and our women outperforming the guys, they are underfunded and under-promoted. And even though women make up nearly 50% of all sports participants, they only receive 4% of sports media coverage. It's a no-bueno ripple because, without airtime, female athletes lose out on sponsors, fans, and mula. 
We love to champion rugged individualism and meritocracy in America, but it fails to carry weight if we prevent others from fully sitting at the table. Advocating for proper funding and exposure doesn't mean that men need to lose out, but, ya know, if guys can't deliver like the women, then let meritocracy rule. 
I feel fortunate that Pause Breathe Reflect can sponsor two female/trans/femme cycling teams - Team Sugoi and L.A. Sweat - in 2022. But if you don't run a company or head up sponsorship, it's natural to wonder what you can do to change the status quo. 
Well, here are five things you can do to advocate for women's sports: 
Watch the women's events during the 2022 Games

Follow, like, share, and comment on social media

Buy products from companies that sponsor female athletes

Demand a level playing at a local level for your children

Recruit, hire and promote female athletes at your company
Here are a few women athletes I'm eager to see compete: Jessie Diggins, Eileen Gu, Mikaela Shiffrin, Elena Meyers Taylor, Maame Bine, Erin Jackson, Dorothea Wierer, Chloe Kim, and Brittany Bowe, to name a few. 
Let me know who you're eager to see.
Let The Games Begin! Watch the women shine! 
p.s., 
Hey, if you haven't signed up for our Kindness Challenge, today is your day. It's already changing lives, and I would love to include you. You can discover more and sign up by clicking Kindness. 
Oh, and we added a few new things in our Pause Breathe Reflect Store like P.B.R. Candles and new stickers. They just may be the perfect gift for you or your Boo. 
And we have a brand new Youtube channel with daily meditations and affirmations. I would love it if you checked it out and subscribed HERE.  
Until next week, enjoy The Games and have fun storming the castle! 
Michael 
---