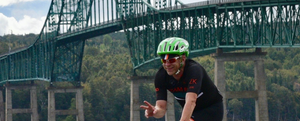 Crossing Bridges
"Love is that condition in the human spirit so profound that it empowers us to develop courage; to trust that courage and build bridges with it; to trust those bridges and cross over them so we can attempt to reach each other." - Maya Angelou
There's been a lot to celebrate over the last few days. It's easy to start with the release of our
Pause Breathe Reflect Meditation and Relaxation app
, and I can't forget attending my first in-person conference since March 2020 (although I just got a Covid exposure alert on my phone).
But my biggest win might surprise you.
It was crossing the Walt Whitman and Ben Franklin Bridges in Philadelphia - surprise, surprise. I'll explain.
Around the age of 11 or 12, I developed "I can't move my legs" anxiety when approaching bridges, and when one collapsed on the NYS Thruway, my fears went into overdrive.
Luckily during college and my early professional life, it went away without intervention, but this January, it came back as I crossed NYC's Throgs Neck on my way to Long Island. I was a sweaty, exhausted mess when I got to the other side of the East River. On the way home, I went thirty extra miles to avoid crossing back over it.
I started to panic because I knew I had multiple bridges on my cross-country ride. Plus, New York City is a city of bridges, so I had to figure this out. It was a moment that called for exposure therapy and mindfulness.
So, I started crossing as many bridges as possible during my training rides and car trips, but that scary moment, high above New York's skyline, left me unnerved. Before crossing the Tappan Zee and George Washington, I would drop into meditation (eyes open, of course), slow down, and repeat a few mantras.
Over time, it got more manageable, but bridges that climbed into the clouds, like the Delaware Memorial, would overtake my nervous system.
Fast forward a week, I knew I had to cross two significant bridges with elevation to get my conference. I was a bit anxious as I zipped down the New Jersey Turnpike, but when I got to my first Delaware crossing, it was smooth as butter. I was so psyched, which made the second bridge easy-peasy lemon squeezy. I did it!!!
Whether physical or emotional, we all have bridges to cross; the only way to get better is to keep crossing them. It's like reps in the gym - we make progress with practice. We get better at hard things by doing hard things. 
So, what bridge do you wish to cross?
If you need a little help, there are meditations in
our new app
that help you get to the other side.
---