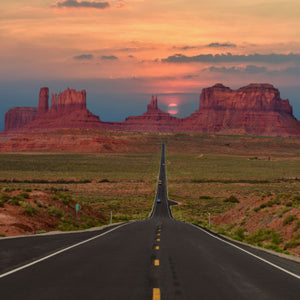 a moment to pause
At the end of 2021, the word journey was one of the fastest-growing words used by S&P 500 executives jumping over 70% from 2020.
Today, it seems like everyone is going somewhere, from the folks in your social media feed to contestants on The Bachelor, but don't utter journey to story-telling guru Robert McKee. He loathes the word. 
Paying attention is helpful wherever you might be traveling because every road will take you there if you don't know where you're going - of course, we all end up at the same spot in the end. 
Yes, sometimes you'll need to travel quickly, but I hope you'll allow yourself to slow down and soak in the everyday moments of your journey. 
I was speaking with a group of like-hearted humans yesterday, and they shared how challenging it is to keep up with today's pace. There's no space or slack in our days. We rush from meeting to meeting or "have to" to "have to" as we blow past our rest stops. It's no way to travel. 
I'm not suggesting that we hang out at Starbucks all day - unless that's your jam - no judgment, but you know there's better coffee out there, right? Hey, there are things we "get to do" and places to see, but that doesn't mean we can't slow down just a bit, take a moment to pause, and enjoy the ride. 
I'll be back in two weeks with our next moment to pause because I'll be riding my bike from NYC to Buffalo and back. It's all part of my journey.
If you wish to follow along, you can join me for Milkshakes with Michael at 8 pm Eastern on IG Live (@MichaelOBrienShift). 
Until July 8th, keep rippling something worth rippling. 
What We're Celebrating
We now have over 100, one-minute meditations for your everyday moments!
We believe that one-minute matters in starting and maintain a mindfulness practice that you can weave into your day. Not everyone has ten minutes every morning to meditate, but we all have ten moments throughout the day to take one minute to Pause Breathe Reflect. Like any valuable habit, we start small and encourage it to grow over time.

Here are some new one-minute practices you'll find on your app:

Be Still
Caregiver Pause
Sunrise
Sunset
You're Not Your Job
In Nature
Surrender

There's also a perfect two-minute practice called Sunday Scaries when you dread returning to work on Monday.

You should see these practices on your app by Monday.
Ways to Connect
Together we go far, and connection is one of the essential currencies we need today. That's why we created our Mindful Moment Greeting Cards to help you connect with someone special in your life and why you can ripple (aka share) every meditation in the app with a friend, whether they have the app or not yet.

If you would like to connect with me, you can find me on IG @pausebreathereflect or Linkedin, and you can receive a moment to pause text a few times a week by texting 'app' to 503-487-5957.
This Week's Poem
Give me the long, straight road before me, 
A clear, cold day with a nipping air, 
Tall, bare trees to run on beside me, 
A heart that is light and free from care. 
Then let me go! – I care not whither 
My feet may lead, for my spirit shall be 
Free as the brook that flows to the river, 
Free as the river that flows to the sea. 
 - Freedom by Olive Runner
---