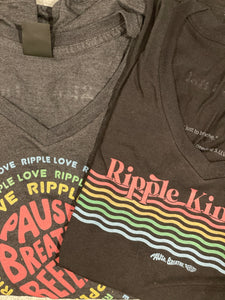 #58 - An intentional act of kindness
#58 - an intentional act of kindness
Krispy Kreme opened a new store during my first few days after my accident at the University of New Mexico Health Center in Albuquerque. The lines were three hours long and ABQ was all a buzz.
Part of my daily care was getting wheeled down to wound care. The pain was unreal, even with the powerful pre-care pain meds my team gave me, but my care specialist was a badass angel who provided fantastic care.
After a few days of seeing Yvonne, she surprised me with a few donuts. They were amazing. I think I cried as I ate them. I was overwhelmed by her kindness. 
Over the last twenty-two years, I've received many beautiful acts of kindness, and part of my daily intention is to continue to ripple back to them and others as a way to say thank you. I'm here today because of people like Yvonne. 
As a thank you, I'm gifting or rippling two things. 
#1 - I'm providing 22 weeks of free and full access to my meditation app so others can bring mindfulness to their everyday moments. It's something that I hope you will generously ripple to your friends, colleagues, and family members. The link is open until 11:59 pm Eastern on the 11th - www.rippleloveandkindness.com
#2 - I'm gifting 222 Ripple Love or Ripple Kindness T-Shirts. It's an environmentally friendly, super-soft tee with a special message inside. There's nothing quite like it. It's more than a tee shirt; it's a way to live. You can secure your tee via www.lastbadday.com 
Whether we've been connected for twenty years or longer or just met, thank you! Thank you for being part of my peloton of like-hearted humans and rippling what you are rippling into the world. 
---