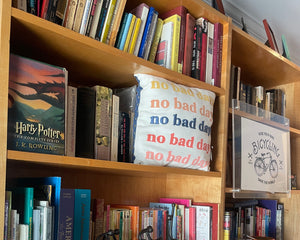 #56: when you show up as you
Today I was having a pre-interview with a podcast host. He likes to speak with folks before he extends an invitation to be on his show - which is prudent. 
We hit it off right from the rip, but as we were rounding up our conversation, he said, "Can I share a few observations with you..." 
He went on to ask about my setup. 
Him "Do you usually do your interview there?"
Me: "Yes" 
Him: "No, judgment, but a lot is happening with those bookcases. It doesn't seem that calming. I'm okay with it, but others that like order might now. Is it consistent with your executive coach and meditation teacher branding?"
Me: "Can I share something about these bookcases?"
Him: "Sure"
Me: "When my wife and I were starting out together, and we didn't have much money, we built these. Having them here is a reminder that we can figure things out, and as traveled forward and had experience, children, etc, our lives became fuller like these bookcases. I like to think I help people experience a full life, and if things get chaotic, I provide them a way to come back home." 
Him: "Wow, like I said, no judgment. I would keep them."
I'm not the type of person who likes to have his bookcases color coded - Personally, it looks cool, but it's not me. I know I'm not everyone's cup of tea; nobody is. But for those who like the type of tea I'm serving, I will fill up your mug because that's how we roll. 
Oh, #57 was that moment when you knew you needed to be still. Yesterday was a special day as we recognized the 22nd happy anniversary of My Last Bad Day. I appreciate all the messages sent; we ripple a ton of free app memberships and are close to maximizing our t-shirt giveaway. It was a big ripple day, but I knew I could use a moment to look back to see how far this ripple as traveled. 
Michael 
p.s., 
Download your Pause Breathe Reflect app for free and calm your chaos.
Please let me know if you or you know someone doing the Pan-Mass Challenge in a few weeks. I have something to gift to them.
---