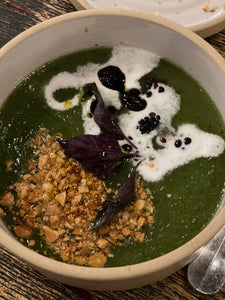 #56/#55 - When you notice how you think
Last night I went to dinner with two colleagues from my corporate healthcare days.
Each time we come together, we pick the same restaurant in Morristown, NJ, and since they rotate the menu to match the seasons, we try to go once a quarter.
Last night they had a green melon gazpacho that was insane. If you've never attempted mindful eating, please do. It will make every spoon or forkful a mindful moment, and your food will never taste better. This is #55. 
The evening was full of personal and family catch-ups and a couple of prosecco toasts. As we were mopping up the last morsels of our entrees, one of them shared some fantastic news about her new, high-viz position for one of the world's largest healthcare companies. 
We were so happy for her, but when we started talking about her first few days, I shared that it would be wise to be politically astute since she's an external promotion. Some might wonder if she got the job because she's a woman of color even though she has jets for the job and then some. 
As soon as I shared this, I felt sad - I was judging folks I don't know. 
Just three years ago, our push for diversity and belonging felt different. Things started to change. It felt promising. But three years later, it feels like we've yet to make much or any progress.
This isn't to invite a political debate; I share this moment to bring awareness to how we think about each other between the moments - especially when we don't know each other. The perspective I shared with her let me know how I saw things.
Michael 
p.s., 
Download your Pause Breathe Reflect app for free and calm your chaos.
Please let me know if you or you know someone doing the Pan-Mass Challenge in a few weeks. I have something to gift to them.
---