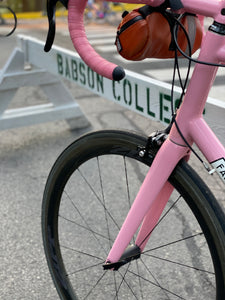 #32 to #30: a weekend full of mindful moments
#32-30 - a weekend of mindful moments
#33 of our mindful moments, I referenced the Pan-Mass Challenge (PMC) and that moment when you feel like you belong. Well, #32, #31, and #30 also connect with PMC and are universally relatable. 
I didn't officially sign-up for PMC this year because my cycling calendar was full, but a few curveballs later, I had some free time. The only problem was I missed the registration deadline, but on Thursday, my friend called and said, "We can get you in," and I was hell yeah!  
I knew everything was else figureoutable so we made it happen. I drove up late Friday, slept for 5 hours, found an "open at 4 am" Dunkin' and laid down eighty-four fantastic miles on Saturday. 
When was the last time you had a hell yeah moment? It felt pretty good, right?
There's plenty on the internet that tells you to trust your gut or intuition - some consider it your sixth sense. But with everything that is being thrown at us, our intuition can get confused.
However, like all senses, you can sharpen it through mindfulness, so when that moment comes, you can say, hell yeah, and trust your gut and go for it without any brain summersaults. 
#31 - the color pink
Orange is my favorite color, but I'm a massive fan of pink (the color and singer). I would rock my outlet mall Lacoste pink oxfords and polos back in high school. I even have a pink bike, which turned many heads at the PMC. 
It was built in Milan, and I had it painted pink because that's the color of the leader's jersey in the Giro d'Italia (Italy's version of the Tour de France). 
But when you're at a cancer charity event, it represents breast cancer awareness, and this summer, it could be an homage to Barbie. Heck, it could be all three.
Well, it sparked many comments that rippled into meaningful conversations that made the miles fly by. It's incredible what one color can do. 
What color does this for you? 
#30 - Guilt Free Road Trip Food
I firmly believe any calories consumed on a road trip don't count, and one of my favorite treats is Combos. Yes, those "cheese" filled pretzels. I'm careful not to read the label because I don't think there's anything natural in them, but boy, oh boy, they were all yummy in my tummy as I traveled down the Mass Pike. 
Of course, when I got home, there was a rumbly in my tumbly. It didn't feel so good, but hey, no guilt, no judgment, but I did have a kale salad the next day. 
What's your go-to road trip snack? 
p.s., 
Download your Pause Breathe Reflect app for free, stress less, sleep better, and bring more mindfulness to your everyday moments. 
---