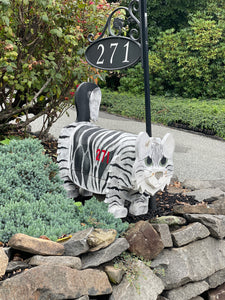 #29: decorative mailboxes
Maybe it's the paperboy in me, but I love a decorative mailbox. It tells me something about who lives there and usually brings a ripple of good vibes. I can't recall ever seeing a skull and crossbones mailbox.

When I was younger, going through the mail was fun, but today it's usually a collection of catalogs, direct mail, and a few bills - not much to write home about. :)

Even though our mail has changed, I still love those moments when I glimpse a cool-looking mailbox. They make me smile; any moment you smile, there's a chance to ripple kindness.
Michael
------------
Download your Pause Breathe Reflect app for free, and be part of a community where we send goodness to your mailbox.  
If you want to share an everyday mindful moment, send it along, and I will include it in our list of 100.
---