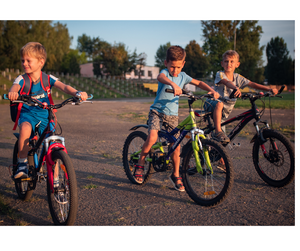 #15 - kids say the funniest things
Yesterday evening on our walk with our three springer spaniels, we ran into a Mom and her two young sons - they were maybe 8 and 5 years old. 
Well, seeing three of the same breed blew the oldest's mind. He must have said, "Whoa, wait a minute!" three or four times. He was wonderfully precocious and quite curious.
He wondered if they were twins - so cute - and politely asked if he could pet them and wanted to know their ages - 14 (Jester) and 13 (Hope) years, and ten months old (Story). 
And then he said, pointing to our mature dogs, "Oh, they're going to die soon." 
His Mom cringed. We cringed and said, "Yes, but we don't really like thinking about that," as we tried to move the conversation along. 
Then, he got off his bike, sat down on the curb, and appeared to be settling into a long chat with us. 
I asked him if he was getting excited about school starting, and he gave me his best "Whatcha talkin' about Willis?" look as he asked if I was a teacher. 
Soon our party broke up, and as he rode off and we walked away, he shouted, "Hey, if one of them dies, you still have two." 
p.s., 
Download your Pause Breathe Reflect app for free, stress less, sleep better, and bring more mindfulness to your everyday moments. 
---